3 Winners of Brand New Honda Click 125i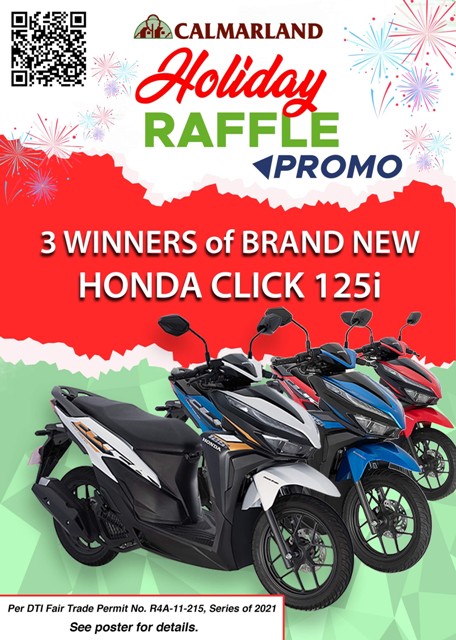 3 Winners of Brand New Honda Click 125i
It's the Holiday Season again.

And it's Time to win Big with CalmarLand! 
Reserve a unit and get a chance to Win one of the 3 Brand New Honda Click 125i!
Valid for House & Lot, RFO, and Lot Only. 
Get 1 electronic raffle ticket for every Million!

HOW TO JOIN
• The promotion is open to all buyers of available units in all projects of Calmar Land including House & Lot packages
(RFO & NRFO) and Lot Only units.
• Each buyer will be entitled to one (1) raffle entry for every PHP 1M TCP of the purchased unit.
• Additional one (1) raffle entry if purchase was from the following projects:
QUEZON – Brentwood, South of Brentwood, Cosmopolitan Homes & Lovely Meadows
BATANGAS – Sorrento
LAGUNA – Istana Lovina

ELECTRONIC RAFFLE COVERAGE
• Promo runs from NOVEMBER 8 to December 31, 2021.
• Raffle entries will be issued electronically. An email and text confirmation on the number of raffle entries will be sent
upon booking of sales reservation.
• Deadline of submission is on JANUARY 6, 2022.
• Location of Calmar Land Branch Offices for account reservation and booking are in the following:
Lucena City, Quezon | Lipa City, Batangas | Bay, Laguna.
• Account must be considered by Calmar Land as a booked sale to qualify in the electronic raffle.

ELECTRONIC RAFFLE PROPER
• Electronic raffle will be via Randomizer App by Microsoft.
• All qualified buyers from NOVEMBER 8 – DECEMBER 31, 2021 will have their names inserted in the Randomizer
App by Microsoft.
• Actual electronic raffle will be on JANUARY 11, 2022 | 3:00 PM at Calmar Land Office Lucena City, Quezon.
• Total of 3 electronics raffle draws. 1 winner per draw.
• Participants may only win once.
• Winners will be notified via phone call and email.
• Winners are required to have their respective 1st payment settled within schedule to claim the prize. A drawn winner
whose account is onpast due or default at the time of the draw is automatically disqualified.

HOW TO CLAIM THE PRIZES
• Winners may claim the prize at Calmar Land Branch Offices from FEBRUARY 1 to APRIL 29, 2022
• Present two (2) government valid identification cards.
• Prizes are not convertible to cash.
• Unclaimed items are forfeited beyond APRIL 29, 2022.
• An authorized representative may claim the prize provided that he/she has authorization letter, valid IDs, and a
photocopy of the winner's 2 valid IDs with three (3) specimen signatures.
• Buyers who are up to the 2nd degree of affinity and/or consanguinity with any CLDC employees and officers are
automatically disqualified to join the promo.